News Ticker
6 Feb 16:55
Double experience is comming this weekend on America Ezodus! Happy Hunting!
13 Jan 18:17
Updated Addon Bonuses website and the way how to obtain the newest outfits, including warzone 4, 5, 6 Ancient Spawn of Morgathla ouftits also there will be soon coming new outfits like Dream Warrior and Percht Raider! Another coming updates are new mounts too, due to release of new updates please download latest client. Delivering a percht skull to Frosty. Buying it via the store.
12 Jan 15:14
There is 50% experience and skill bonus enabled until the end of the weekend. Happy Hunting!
4 Jan 19:16
During this weekend all monsters will respawn five times faster. (5x quicker then it is supposed to be.) Areas with an active improved respawn area bonus yield an even faster respawn time.
28 Dec 15:56
As the New Year 2019 is coming and we are working on one of the best Caves/Bosses (The Secret Library) place on NA Ezodus, there'll be 50% skill boost and 50% experience boost enabled during Last Weekend in the year 2018. Bonuses should start close to today's evening hours until the new year. New maps and one of the strongest monsters on our world would be released this weekend too, more info will be posted on website. Happy Hunting!
North America Ezodus version announced
Welcome to
Open Global-Tibia
server
America Ezodus
that is being developed and tested by a professional team for past seven years!
Best and most complete
North America Open Tibia
Server
on stage those days and we will keep our work with the updates every day!
If you are searching for a stable
Global Tibia
server with latest features, maps, items, mounts and outfits you're on the right place (12.00+) !
Possible to download and use
10+ tibia
client
and also
12+ tibia client
also so everyone will find out his own way to the best!
North America Ezodus
will start on
Saturday, 22nd December 2018 at 18:00 North America Time.


We include all features that you can spot on
Global Server
even newest items and monsters caves from
12.00+
Tibia.



New Features
-
MOTA
extension
- Imbuements
on
backpacks
increasing capacity of character
- Stronger AoE
and single target spell formulas based on old Tibia versions
-
Expanded
Asura Palace
- Warzone IV, V, VI
(including all warzone bosses and gnome items)
- Falcon Bastion
(including all falcon bosses and items)
- Cults Of Tibia
- IOs/Android
social App
here
- Hunting Analyzer
(counts your waste and profit right at the moment)
- Darashia Elite Dungeon
- Grimvale Quest Curse Spread
(Edron and Cormaya)
-
New Outfit Quests
-
Winter Update 2018
- The Dream Courts


Special Systems
- We have fully working
Imbuements
(your imbue decreasing only while you're fighting)
- We have kept the
Mayhem/Remedy/Carving
weapons idea what means you can buy permanent
HP/Mana/Critical
(overcharged
) weapons for
100
Gold Tokens
by trading them with
NPC Yana
-
We have added
Destruction Weapons
in store
(mayhem/remedy/carving are still stronger and obtainable only through gameplay we also added them and imbue slot)
- We include
Imbuement slots
on U
mbral Weapons
- We include fully working
Prey System
- We include
New Summons & New Ammunitions
-
Quick Loot
system
- All common systems like Cast, Private Guild War etc.
-
Events
like
Team Battle
,
Death Match
,
Pandora
Event,
Zombie
run
Event,
Last Man Standing
(survive till you can) reward for all events is
Mystery Box
from store
- We use special custom
speed formula
that is very similar to old tibia formula - your character runs significally faster on higher levels!!
- We have boosted
party shared experience
formula so hunting in party with more vocations should be more fun and effective!
-
Graphical indicator
for the various
PvP
situations what are the differently coloured
frames
around characters.
You see an enchanted pendulet (Arm:2, distance fighting +3, protection physical 5%, energy +18%) that is brand-new.
It can only be wielded properly by paladins of level 180 or higher.
It weighs 6.50 oz.



You see a pair of dreamwalkers (Arm:2, magic level +1, protection earth +8%).
It can only be wielded properly by sorcerers and druids of level 180 or higher.
It weighs 8.00 oz



You see dark whispers (Arm:7, distance fighting +2, protection ice +3%).
It can only be wielded properly by paladins of level 180 or higher.
It weighs 34.00 oz.
You see a winterblade (Atk:10 physical + 41 ice, Def:22 +4, sword fighting +1).
It can only be wielded properly by knights of level 180 or higher.
It weighs 43.00 oz.



You see a summerblade (Atk:10 physical + 42 fire, Def:20 +4, sword fighting +1).
It can only be wielded properly by knights of level 180 or higher.
It weighs 43.00 oz.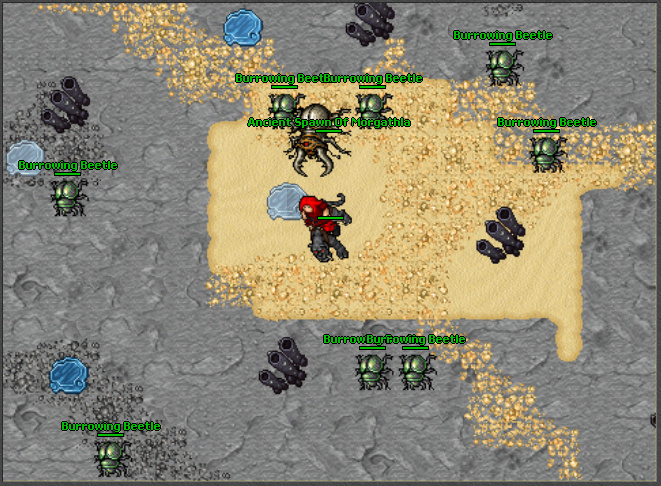 Yours,
Ezodus Team.
Comments: 0
Loaded in 0.0122 seconds.
Code: Gunz & Design: Michal